Got an axe to grind? Come smash some shit and get it out.
where enraged people come to play
safe space for your rage  experience the joy of smashing stuff
Our mission is to provide a space to release big emotions in a healthy and entertaining manner.
C & C Rage Factory is Frederick MD's first and only Rage Room. Here individuals or groups get the opportunity to have a fun time breaking things we were told in our younger (and older days) to be careful with. Here you can throw a plate at the wall and not be called "Crazy." We embrace feeling those emotions you push down. Let them out in a healthy manner here!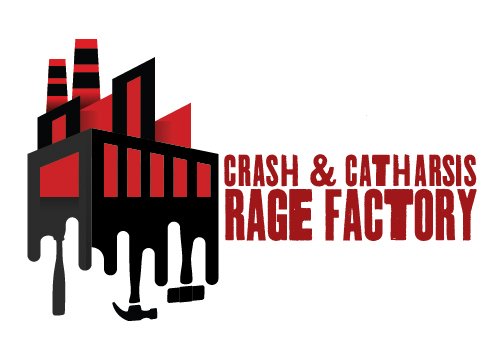 CC Rage Factory
14 West Patrick Street
Frederick, Maryland
For Private Events outside the times please contact us at
crystal@ccragefactory.com
Parking
The closest parking garage is the Court Street Garage. Street parking is around but extremely limited.
Pricing
All guests must be 14 or
over to participate.
$40
15 minutes per person
One Person Per Room
$55
25 minutes per person
One Person Per Room
$500
Groups of 6-12 for 45 minutes
One Person Per Room
$650
All 6 rooms available to you for groups of 12-18 for 70 minutes.
One Person Per Room
$75/Year
Bob's Membership Club Members receive 25% off their booking all year long in addition to other perks. Click Below for More Details.
Rooms
6 available rage rooms, where one person gets to rage at a time. All our rooms are designed to provide a place that you can go to release your anger and tension in a controlled, judgment free environment. This is a place without consequences and an extremely enjoyable experience to relieve irritation.
Scream Into
The Abyss Room
Not interested in smashing, just want to scream as loud as you can?  We got you!
Social Media Room
Take pictures with friends after your time outside the room and have fun talking with the staff about your experience. This area also has information on other fun things to do in Frederick and our Mental Health information area.
Hours
For Private event outside
the times please contact us.
Monday
12pm- 7pm (Last Booking 6:30)
Tuesday
3pm- 7pm (Last Booking 6:30)
Wednesday
3pm- 7pm (Last Booking 6:30)
Thursday
3pm- 7pm (Last Booking 6:30)
Friday
12pm- 9pm (Last Booking 8:30)
Saturday
11am- 9pm (Last Booking 8:30)
Sunday
12pm- 7pm (Last Booking 6:30)
We provide the safety gear that you need and the best part of it all? We clean up for you!
Crystal Williams Palmer– It started with a porcelain bell in a paper bag for me. I knew vandalism wasn't in my blood very early on, but the cautious yet crazy action of breaking a small porcelain bell in a paper bag with a hammer during a night of big emotions with a friend started a healthy outlet of relief in my personal life. Over the years I have cautiously destroyed many things when these feelings crept up (mugs, plates etc) in the tamest way possible, because again vandalism and jail time have never been something I have wanted. During Covid-19 lock downs more cathartic actions occurred, I am a pillow screaming queen. As people started to venture out into the world I saw more people looking into relief of these feelings of being frustrated, enraged, mad, sad etc. From there I worked to establish Frederick Maryland's Rage Room. I moved to Frederick in 2011 and have loved the city since. I wanted to have a space and a business that allowed people to express their feelings in the safest and most entertaining way possible.